DK Eyewitness Travel Guide: Mexico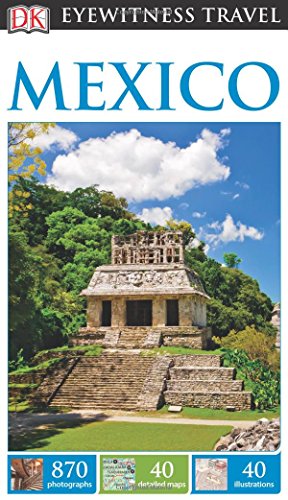 DK Eyewitness Travel Guide: Mexico is your indispensable guide to this beautiful part of the world. The fully updated guide includes unique cutaways, floor plans and reconstructions of the must-see sites, plus street-by-street maps of all the fascinating cities and towns, from Mexico City to the Golf Coast and Yucatan Peninsula. The new-look guide is also packed with photographs and illustrations leading you straight to the best attractions on offer. It provides all the insider tips you need, whether you're hiking in Copper Canyon, salsa dancing in Mexico City, or diving in the Mexican Caribbean.
The uniquely visual DK Eyewitness Travel Guide will help you to discover everything region-by-region, from the country's ancient ruins and colonial towns to the hectic life of its modern cities. You'll find 3-D illustrated cutaways and floor plans of all the must-see sights, such as the ancient city of Teotihuacan and the Mayan rain forest city of Calakmul. Detailed listings will guide you to the best hotels, restaurants, bars, and shops for all budgets, while detailed practical information will help you to get around, whether by train, bus, or car. Plus, DK's excellent insider tips and essential local information will help you explore every corner of Mexico effortlessly.
With hundreds of full-color photographs, hand-drawn illustrations, and custom maps that brighten every page, DK Eyewitness Travel Guide: Mexico truly shows you this country as no one else can.