Fodor's Puerto Vallarta: with Guadalajara & Riviera Nayarit (Full-color Travel Guide)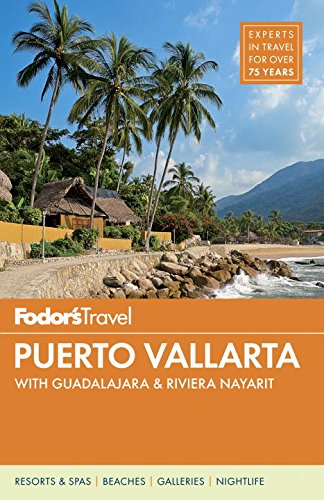 Delicious local cuisine, vibrant nightlife, natural beauty, and an
abundance of sunny beaches make Puerto Vallarta one of the
most-visited destinations in Mexico. From the authentic folk art of the
Huichol Indians to thrilling outdoor adventures to the historic
cobblestone streets of the Zona Romantica, Puerto Vallarta and nearby
areas teems with interesting things to see and do.
EXPANDED COVERAGE: Hot new hotels, restaurants, and bars are covered throughout Puerto
Vallarta, the Riviera Nayarit, Costalegre and Guadalajara. Revamped chapters on Beaches and
on Sports and the Outdoors, a revised "Top Attractions" section, and a new "Exploring" chapter
offer helpful overviews of Puerto Vallarta and the surrounding regions.
ILLUSTRATED FEATURES: Special full-color features throughout the book illuminate the most
distinctive features of Puerto Vallarta. "The Art of the Huichol," "Mexico's Gourmet Town,"
"Tequila," and others give travelers an unparalleled sense of Puerto Vallarta.
INDISPENSABLE TRIP PLANNING TOOLS: The "Experience Puerto Vallarta" chapter offers a
helpful overview of the top experiences, visitor information, "Great Itineraries", and sections on
cruises, family travel, and weddings and honeymoons in Puerto Vallarta. "Best Bets" for
restaurants and hotels and in-depth beach and outfitter reviews make trip planning easy.
DISCERNING RECOMMENDATIONS: Fodor's Puerto Vallarta offers savvy advice and
recommendations from local writers to help travelers make the most of their time. Fodor's
Choice designates our best picks, from hotels to nightlife.
INCLUDES: Puerto Vallarta, Nuevo Vallarta, The Southern Nayarit Coast, Riviera Nayarit,
Costalegre, Guadalajara, and more.
ABOUT FODOR'S AUTHORS: Each Fodor's travel guide is researched and written by local
experts.